Familiar Patterns: BFA Thesis Exhibition Review
By Olivia Wachtel
Emelia Tallman's Senior BFA Thesis Exhibition, Familiar Patterns, is a beautiful exercise of reflection. Not only does the thesis capstone all of Tallman's work as an artist in the past four years at Kent, but her crochet forms also reflect upon her childhood and the nature of human connections. The exhibition consisted of two textile pieces, "The Family Room" and "Grannysmith," both of which utilized multiple granny square patterns of crochet. 
The first piece, "The Family Room," presents as a traditional crochet quilt but conveys much more meaning. Tallman learned how to crochet from a friendly neighbor as a child, and the colors of this piece reflect the color schemes of Tallman's childhood home. For Tallman, this piece was a reflection upon her childhood and the home where she first explored her artistic abilities. Beyond these personal connections for Tallman, "The Family Room" tells a story of art's connective power by using the deeply human craft of crochet. Crochet is a textile process that machines are unable to replicate, so the craft must be passed on through personal training, much like Tallman experienced. As suggested by the title, "The Family Room" uses a craft that is deeply rooted in family history and depends upon human connections to be passed on and remembered. Thus, not only does the piece reflect Tallman's growth as an artist from a young age, but it also suggests that a key value of art is the community it fosters across generations.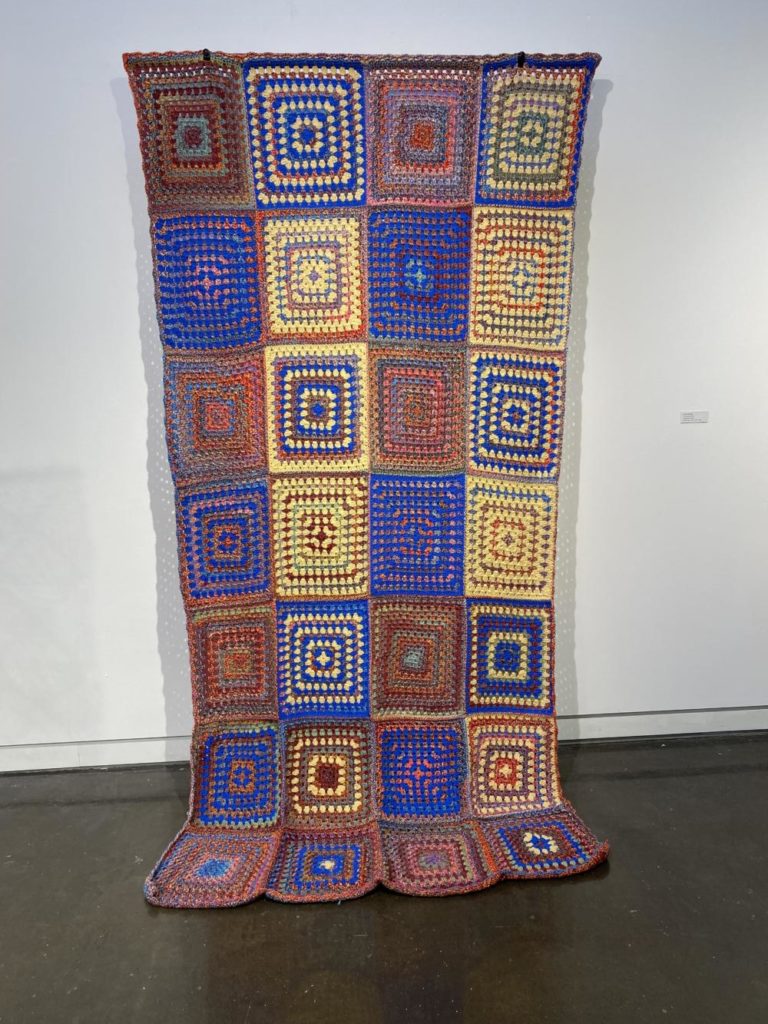 Acrylic Yarn
62″ x 107″
This message is emphasized by the large size of "The Family Room." The piece immediately demands the viewer's full attention, and the soft texture of the yarn pulls the viewer in to feel a part of the community Tallman has experienced through crochet and art. The colors also help the viewer access this feeling of community, with each granny square having a unique pattern of colors which invite the viewer to stay and study the piece. Just as Tallman associates home with crochet and this color palate, she also allows the viewer to feel at home by inviting them to participate with the piece and feel included.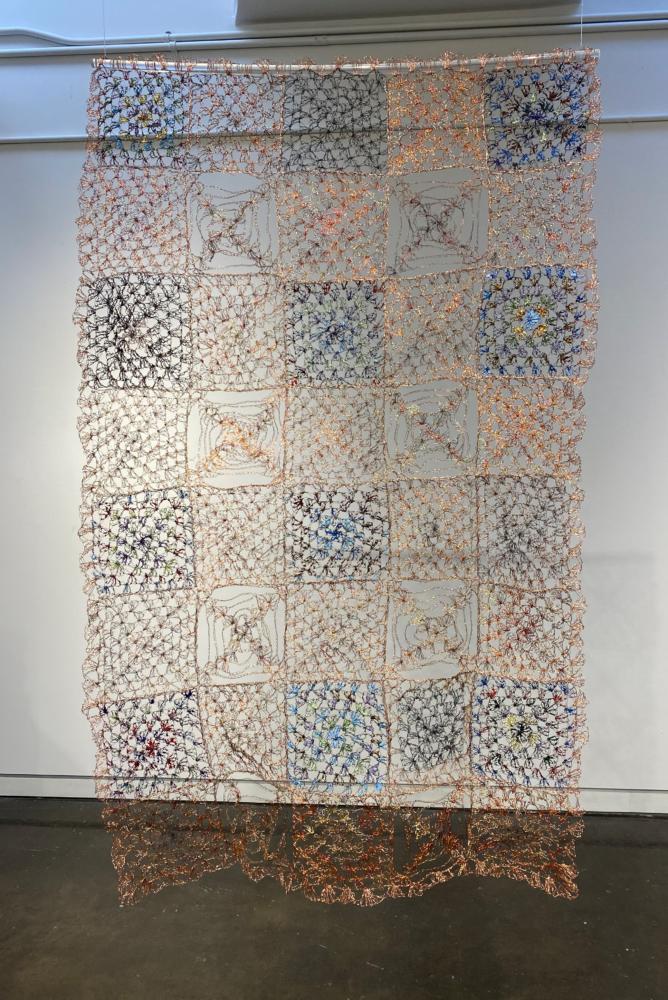 Copper wire, enamel
31″ x 52″
While "The Family Room" uses soft textures, large size, and soft colors to invite the viewer in, "Grannysmith" uses wire and enamel to put her own mark on the traditional artform of crochet. Tallman explains the intent behind this sculptural piece as both reflective and predictive: "I strive to create art intentionally by remembering where I started to see where I am going—repeating familiar patterns with different materials to develop original, exciting, and meaningful art." Not only does Tallman honor tradition and community in "The Family Room," but she also pushes the craft's boundaries by changing the material.
Rather than using traditional yarn, "Grannysmith" uses industrial materials, and rather than being a weighty blanket for practical use, the textile is ethereal and lightweight and is not concerned with being a practical object. Additionally, Tallman puts her own mark on the copper wire by heating it to produce a variety of colors. By pushing the boundaries of crochet, Tallman suggests that, not only can art connect people in a tradition, but it can also provide room for nontraditional, individual growth.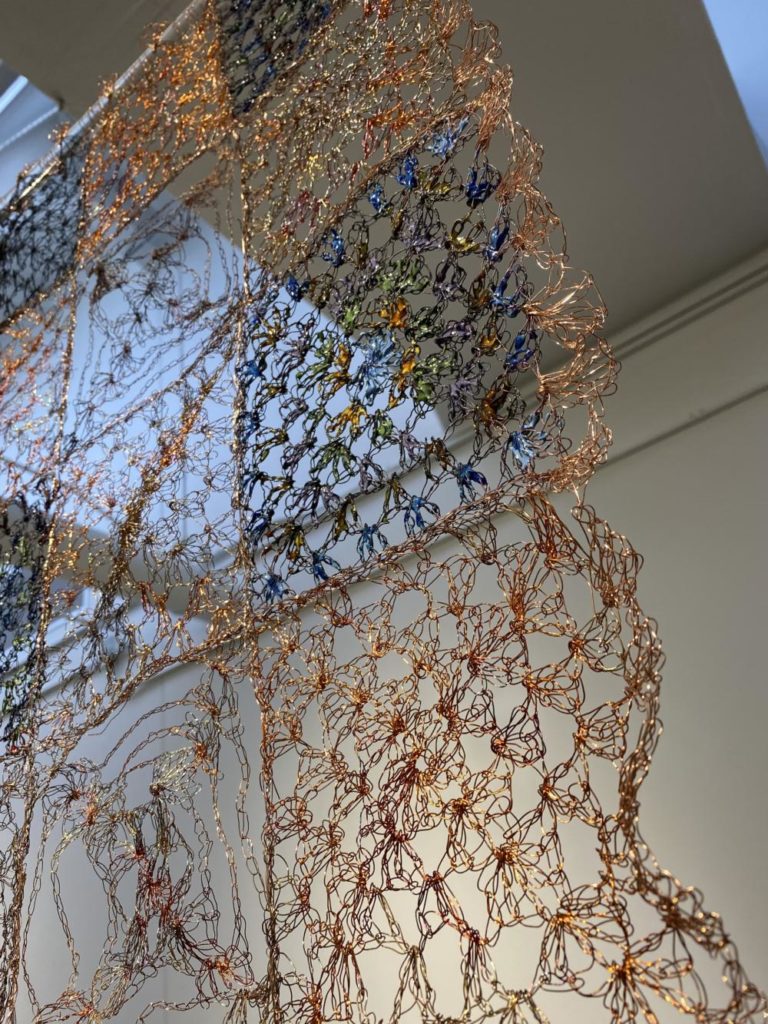 Tallman's Familiar Patterns uses repeated granny squares to both reflect and envision. While often regarded as a purely practical textile, Tallman uses crochet as a legitimate, dynamic artform to convey art's ability to create connections and foster artistic growth. Although the exhibition is no longer on display in the CVA, I highly recommend keeping up with Tallman's future work.