Subjective Value & the Material Self: Senior Thesis Exhibition Review – Anders Ove (Fall 2021)
By: Chad Troyer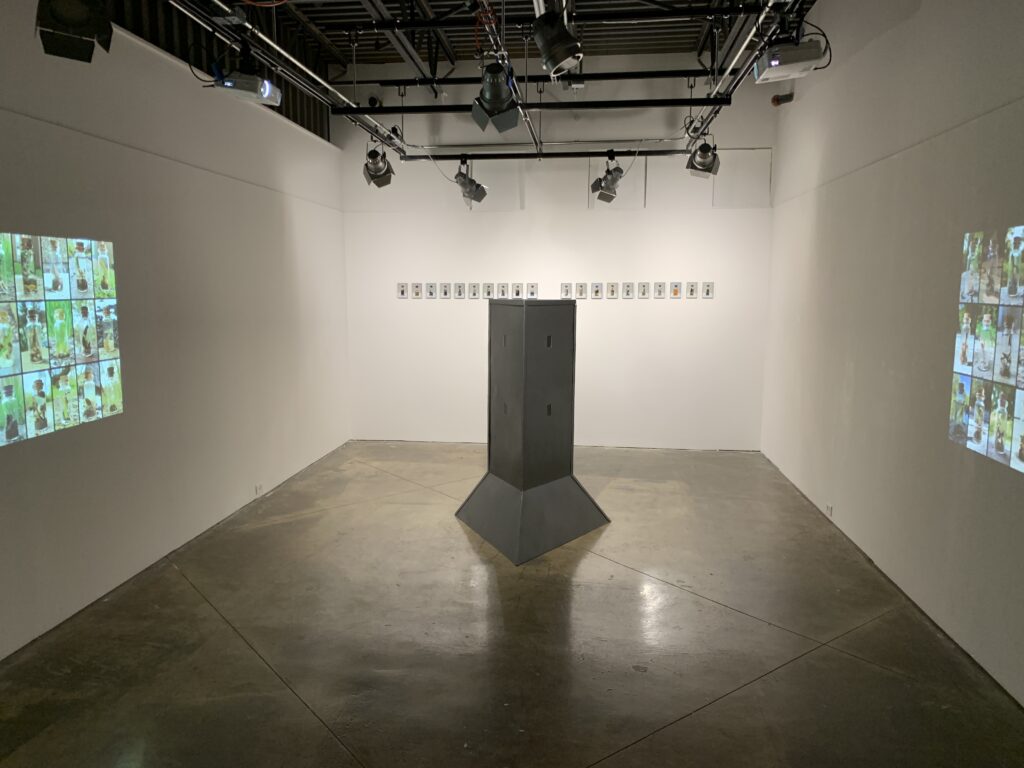 Subjective Value & the Material Self is an installation focused on tiny jars, born from Anders Ove's Vile Vials project. A selection from the first iteration of Vile Vials is presented as enlarged photographs on one of the gallery walls. These "Vials" are composed of "found objects" that Ove swept up in the different departments of the school of art, Sculpture, Glass, Jewelry, etc. The composition of these jars, which are comprised of junk, trash, refuse, etc, begs the viewer to question if this is art or if it is trash.
On the same wall, are a collection of jars composed of objects found at his grandparent's house. Ove can recite the name of each of these jars and their contents, ranging from the pills in his grandmother's medicine cabinet to her perfume, and clippings from his grandfather's atlases. These vials are cathartic and create a very strong portrait of his grandparents, of who they were, how they lived and how they died.
There are also two projected videos which play for about a minute before looping. Each video has 15 individual videos of jars containing critters, bugs, arachnids, etc., reacting to their containment in a small vial. The video makes you empathize with a spider, which in any other situation you would crush without a second thought. The "victims" of this containment squirm trying to get to their natural habitat, a mere fraction of an inch away, separated only by glass. Are these critters and insects and arachnids truly experiencing and practicing their purpose? If they are not truly acting on their purpose, what gives them value, do they have value?
In the center of the room, is a metal obelisk with two holes on each face. In these two holes you can peer into it to see a bright white interior with discs carrying a fourth collection of vials. The jars, when stopped, are centered in the peephole and stay for about 5 seconds until it turns and a new one is revealed. These collections of jars also read as portraiture as their contents were collected from members of the School of Art Community. If you know the members of this community, you can play a guessing game of which jar is a portrait of who.
I think this last collection of jars is probably the weakest, playing more on the recognition of your own trash assembled into a tiny composition than playing into the idea of what is valuable aesthetic trash. However, this could be due to my closeness to the work. It plays more on the recognition of your peer's trash than the recognition that these materials gave a person meaning and value: that this tiny composition of trash is reflective of their art and how they express themselves. That itself is pretty profound, however, that an artist's trash looks like their art. This does enhance Ove's argument, saying that all an artist does, all that Ove did, was take trash and compose it into a composition.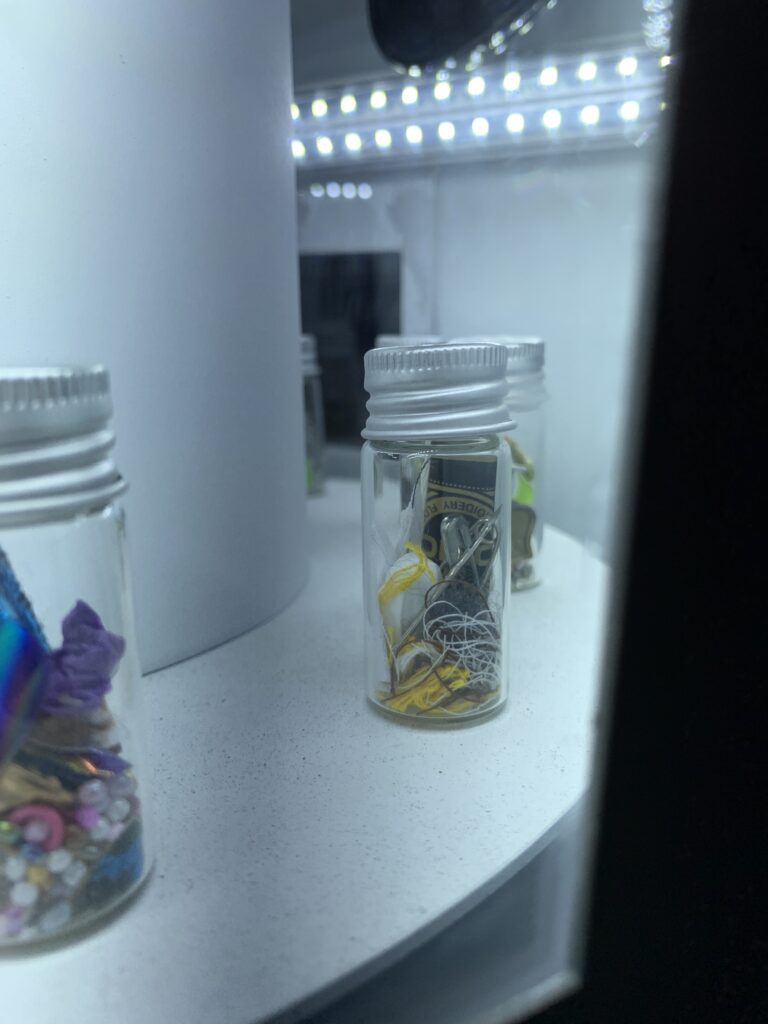 I think the distance that the audience has from the second collection, the grandparent's collection, has the strongest connection to the ideas of subjective value and the value a person receives from their "jar," society. I think the scaled-up photos also play into the emphasis on subjective value. Why are these jars so important that they have been scaled up to be larger than life? Really, there isn't anything special about these jars; we just put more of our subjective value on them since they are larger. 
To see more from Anders Ove, you can follow them on instagram at @anderove89 and you can see more of the vile vials, including all of the vials mentioned in the review at @vile_vials.